On February 14, 2017 Iowa Secretary of Agriculture Bill Northey, presented two agribusinesses and two Certified Crop Advisers (CCAs) as recipients of the Secretary's Iowa Ag Leader Award.   Northey recognized Dow AgroSciences and Two Rivers Cooperative and CCAs Kellie Blair from Dayton and Jim Anderson with Remington Seeds in Williams.
"Iowa is fortunate to have businesses like Dow AgroSciences and Two Rivers Cooperative and Certified Crop Advisers like Kellie Blair and Jim Anderson that are taking a leadership role in advancing water quality efforts in the state," Northey said.  "All of these award winners are a great example of the stakeholders across the agriculture industry in Iowa that are providing tools and information to help farmers and landowners make improvements on their farm to better protect water quality."
Northey presented the awards at the Agribusiness Association of Iowa's Showcase and Conference at the Iowa State Fairgrounds in Des Moines, Iowa. The Iowa Department of Agriculture and Land Stewardship reports that the award is presented to those for their outstanding leadership in improving Iowa's water quality.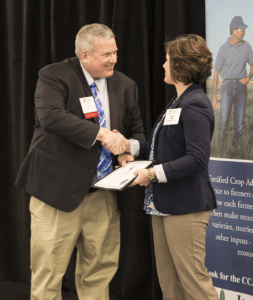 Kellie Blair, a Certified Crop Adviser – Dayton, IA
Kellie Blair is a graduate of Iowa State University with a double major in Forestry and Agronomy. Blair and her husband, AJ, operate AKR Farm near Dayton where they grow corn, soybeans, cattle and hogs. She also develops manure management plans, is a Technical Service Provider and has assisted in setting up field trials for Boone River Watershed Project through the Iowa Soybean Association.
The Blair family is committed to the long term preservation of the family business by increasing productivity and profitability through efficient and environmentally conscious management.  They take opportunities to encourage, promote, and protect agriculture and related industries in the local and international arena.
Blair is a proud conservationist, agronomist and mom of two children. She is passionate about telling the story of agriculture and is open to every opportunity to answer questions about food and family.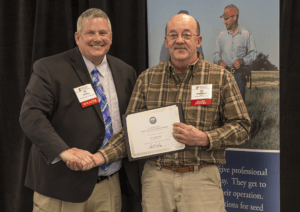 Jim Anderson, a Certified Crop Adviser with Remington Seeds – Williams, IA
Jim Anderson was born, raised and educated in Iowa and currently serves as a location manager for Remington Seeds in Williams, IA.  He has 35 years of experience in seed production, working both domestically and internationally.  He has been a CCA for 17 years.
Anderson is a board member of Iowa Seed Association and Southfork Watershed Alliance.  In these roles he has been an active participant in Water Quality Initiative demonstration project that is focused on increasing use of cover crops on seed corn acres across Iowa.
-30-
About the Showcase & Conference – The Agribusiness Showcase and Conference provides an unique venue to explore the innovative tools required to agricultural businesses, now and into the future. The industry's innovation and technology will be showcased through featured speakers, presentations, and exhibitors. Workshops and exhibits provide value to everyone in the industry – agribusiness senior management, Certified Crop Advisers, grain professionals, pesticide applicators, and more.
About Clean Water Iowa – Visit CleanWaterIowa.org to learn more about voluntary, science-based practices that can be implemented on our farms and in our cities to improve water quality.  Iowans can also follow @CleanWaterIowa on twitter or "like" the page on Facebook to receive updates and other information about the ongoing Iowa water quality initiative.